2021 Toyota Corolla
Anyone looking for a rugged and highly reliable sedan should get the 2021 Toyota Corolla, which has built a legacy for itself over the years it has always been a pleasure to own as it comes in FWD (front-wheel-drive) is available. It is also more manageable and much safer than previous models.
Trims available of the Midlands Toyota:
Toyota has consistently built this model so well over the years that very few American manufacturers have been able to compete against it. A total of 9 variants are available for the 2021 Toyota Corolla including a hybrid as well. Here are the variant names:
SE
L
LE
SE Apex Edition
SE Nightshade Edition
Hybrid LE
XLE
XSE Apex Edition
XSE
Toyota is offering 16 different colors for this car, although all the colors may not be available for all the trims. Having been built on Toyota's new global architecture, the chassis is stiff.
Exterior Appearance:
The first word that comes to mind when you look at this magnificent sedan from the outside is "classic". It looks very exciting, just like in the 1980s: the XSE comes with 18-inch wheels that give it a distinct appearance. and LED taillights are standard on all models. With a honeycomb grille on the front, this vehicle really stands out for its low and aggressive stance. The design lines are bold throughout and are likely to appeal to most young buyers. Keyless entry is available for the vehicle.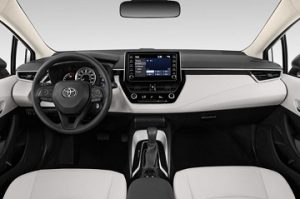 Interior Appearance:
Although the interior may seem simple, the quality of the finishes is the best. All models are equipped with a start button, but some can be upgraded with heated front seats, two-zone automatic climate control, and ambient interior lighting. Load space is available behind the rear bench seat. However, an improved cargo hold option is now available at no additional cost to increase the space. The Entune infotainment system in this vehicle is easy to use and has a highly sensitive touchscreen. It is compatible with Apple CarPlay and Android Auto 7- and 8-inch touchscreens are available, sunroof and automatic climate control, heated front seats, synthetic leather upholstery, and a leather steering wheel are also available.
Engine Specifications:
There are two engines available for the 2021 Toyota Corolla: the first is the base 1.8-liter, which produces 139 horsepower and 126 pound-feet of torque; This engine is coupled to a continuously variable transmission (CVT) automatic transmission. The 2.0-liter engine with 169 horsepower and 151 lbs.-ft of torque. It is available for XSE and SE models and is connected to a 6-speed or CVT manual transmission. The base engine is good for city driving, but the other outshines it on the highway. The engine of the new 2021 Toyota Corolla is certainly worth appreciating, as it is a few hp up from last year. The car gets a 1.8 liter, 4-cylinder engine that can generate 139hp of power and 126 lbs.-ft of torque.
Safety Features:
Forward Collision Warning
Automated Emergency Braking
Adaptive Cruise Control
Lane Keeping Assist
Lane Departure Control
Traffic Sign Recognition
Blind Spot Monitoring
Rear Cross-Traffic Alert