2021 Toyota Tacoma
Toyota Tacoma fans affectionately call this vehicle the "Taco". It has been popular over the years due to its excellent automatic transmission; The vehicle has been around since 1995. The off-road handling of the Tacoma is legendary and masters all kinds of muddy trails and roads with ease. Given its characteristics, this is the vehicle that a buyer would want to buy with their heart rather than their mind.
Trims offered at Midlands Toyota:
The following trims of the 2021 Toyota Tacoma are available at Ford dealerships:
SR (most popular for work)
SR5
Limited
TRD Sport
TRD Off-Road
TRD Pro
The TRD name moniker is to denote performance-oriented versions of the pickup truck. Cab size, bed size, and drivetrains are the other parameters for which customizations are available. A total of 32 configurations are available for Tacoma.
Exterior Appearance:
Outwardly, it looks like the 2021 Toyota Tacoma is ready to jump. LED headlights were provided and the TRD moldings have the TRD logo on the lights. An aggressive design can be seen on the grille and taillights. Big wheels. give this vehicle an elegant appearance. 16-inch wheels are available for the TRD Pro, which are perfect for off-road use.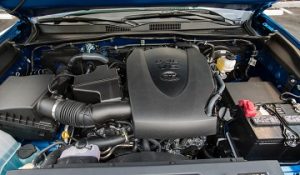 Engine and Performance:
The first engine in the 2021 Toyota Tacoma is a 2.7-liter powertrain with 159 hp. Those looking for a more powerful option should look at the 3.5-liter V6 grinder with 278 hp. 6-speed manual or automatic transmission, with the former likely doing better on uneven terrain. It has a carrying capacity of fewer than 6,500 pounds.
Interior Appearance:
Customers are likely to be surprised by the sleek, well-appointed cab on the 2021 Toyota Tacoma. A storage compartment is provided in the center console. All V6 models except the SR are equipped with 10-way electrically adjustable driver's seats, together with an electrically adjustable 2-way lumbar support. Electrically adjustable rear windows are available on models with a double cab. Two-zone automatic air conditioning is available between the V6 models for even greater convenience. There is more than enough space in the trunk. Regardless of the cabin style, space in the back row is very limited. Interestingly, the interior of this vehicle is a mix of hard plastics and high-quality materials. There are two seating configurations available, Access Cab and Double Cab. While the Access Cab seats four adults, the Double Cab comes with seating space for five.
Standard interior features include:
7-inch, 8-in, and 8-inch Premium touchscreen infotainment system with Apple CarPlay and Android Auto
Navigation
3 USB ports
Remote Keyless Entry
Push Button Start
Moonroof
Safety Features:
Customers understand that Toyota is known for its excellent safety programs Toyota Safety Sense and Star Safety System. Technologies included are:
Forward Collision Warning
Automatic High Beam Headlights
Automated Emergency Braking
Adaptive Cruise Control
Blind Spot Monitoring
Rear Cross-Traffic Alert
Lane Departure Warning