Toyota is never satisfied — it isn't enough that they consistently rank at the very top for rankings in reliability. It isn't enough that they are among the largest automakers in the world. It is still not enough that they improve on each model in their lineup year after year to deliver groundbreaking performance. Nay, Toyota refuses to settle for average. It is this commitment to innovation and excellence that has brought the Toyota Supra back to the market — more stylish, more powerful, and more exciting than ever before. Let the rumors be put to rest, the 2020 Supra will add another notch to Toyota's decorated belt.
Meticulously Designed to Perform
The engineering prowess of Toyota is unquestionable, and the 2020 Toyota Supra displays this in interior and exterior design, as well as performance ability. The athletic stance of the all-new Supra is foreshadows an inner ability that will excite you when you put your foot to the pedal time and again. From even weight distribution to aerodynamic curves each element of the 2020 Supra wasn't just made to look good, but it also makes efficiency, wind noise and speed that much better. At the heart of this beast is the turbocharged 335-hp inline 6-cylinder engine paired with a paddle-shifted 8-speed automatic transmission. This translates into a 335 horsepower and 365 lb-ft of torque. Rounding out the car's hardware is a 4-link front and 5-link rear suspension and sports adaptive damping to provide a solid foundation for all your thrills. Simply put, the 2020 Supra offers everything you could possibly want out of a sports car and more!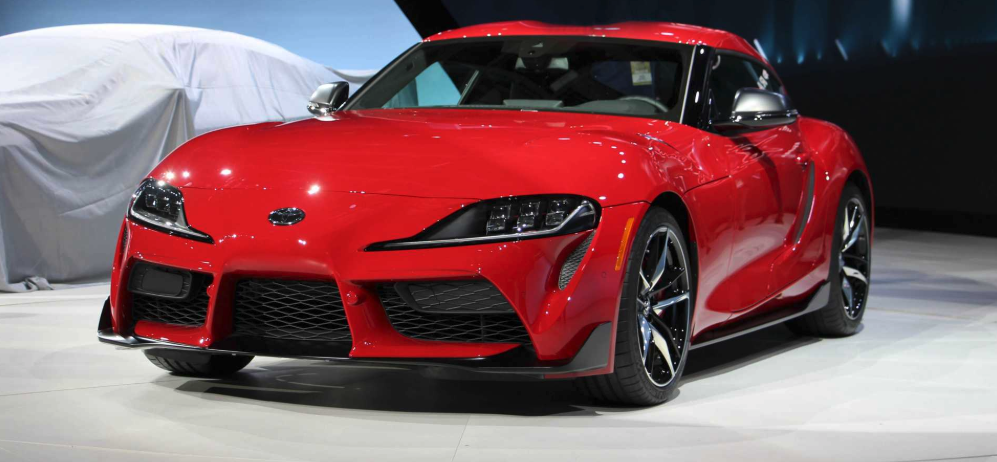 Explore Options on the 2020 Supra with Midlands Toyota
Midlands Toyota is eager to add the new Toyota Supra to our lineup of new Toyota cars, trucks and SUVs, as we are sure that customers will be wowed by its remarkable style and performance. When this sports car arrives in our inventory, you can schedule a test drive to get a sense of just how powerful this 2-seat performance car really is. Our friendly sales representatives will be happy to answer any questions you have regarding its capabilities and connect you with the trim that most suits your technological needs. To continue to enjoy optimal performance, you will need to have your Supra serviced and repaired in a timely manner, and the service technicians at Midlands Toyota are more than up to the task. We utilize the latest equipment and industry standards so that your car is treated with the utmost care. Simply put, Midlands Toyota is fully equipped to not only get you the 2020 Supra that you desire, but also to maintain its high level performance through our expert Toyota Service Center!
Don't Miss Out on the All-New Supra
The 2020 Toyota Supra is back by popular demand, and will occupy a very special place in Toyota's comprehensive lineup of vehicles as a unique performance car. When it arrives at Midlands Toyota in Columbia, South Carolina, you are going to want to check out this car in person. Our staff takes pride in providing customers with a dealership experience that is marked by ease and convenience, making us the premier South Carolina dealership to get the new Supra. We look forward to showing you the new Supra when it arrives at our dealership! To find out more about this amazing Toyota model, call or contact our friendly sales staff today!